Rue Romantique Ornament blog hop
Posted October 31, 2013
I'm not gonna lie, THIS WAS FUN!!!
I was sent the beautiful Rue Romantique bezel KR102 Large Filigree Truss designed by Kristen Robinson, and asked to create a holiday ornament. Now as Carol said, I don't normally do bling. I immediately went to my bin of vintage jewelry looking for glitz and shimmer for this holiday festivity. Wow, a red blinged "merry". I'll take it. A green rhinestone pin. I'll take that too!
So you're asking, what did I actually do to make this ornament? Well, I used Iced enamels around the edges of the bezel and some glitter in the center held in with Ice Resin®. Then using wire and jump rings, I attached the vintage parts. I created the hook with wire and attached some Connie Crystals to finish it off.
Isn't it pretty? I think so ;]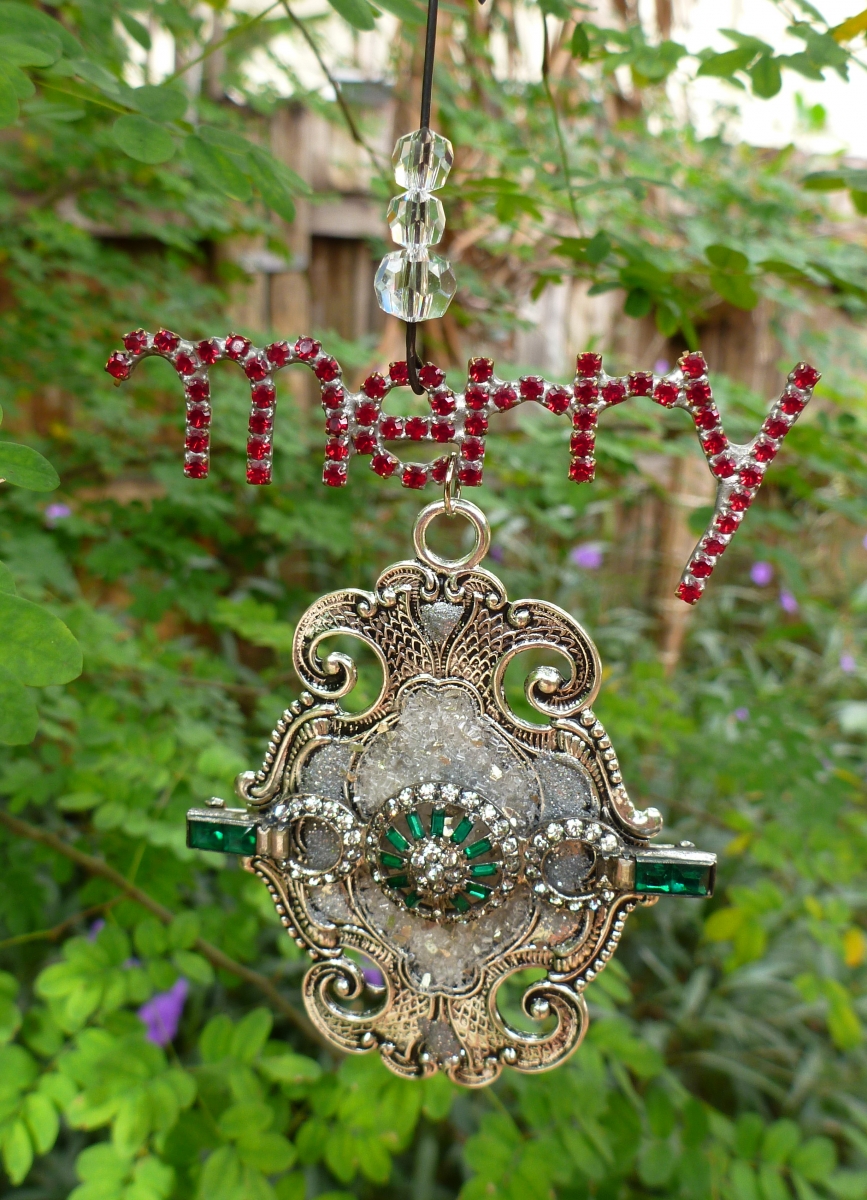 May your creative holiday juices flow!
Peace, Jomama
www.shopjomama.com
Continue the hop here~
Friday, Nov. 8 Kristen Robinson http://kristenrobinson.typepad.com/kristenrobinson/2013/11/rue-romantique-christmas-blog-hop.html Jen Crossley http://amarkintime.blogspot.com/2013/11/rue-romantique-christmas-ornament-blog.html Cindy Cima Edwards http://www.cindycima.com/2013/11/08/rue-romantique-christmas-blog-hop-the-merry-duck/ Cindi Bisson http://fatcatcreations.blogspot.com/2013/11/ice-resin-rue-romantique-christmas-blog.html You can look forward to these ornaments: Saturday, Nov. 9 (ICE Resin site) Carol La Valley  http://wp.me/p1MCno-2W3 Lexi Grenzer  http://lexigrenzer.blogspot.com/2013/11/rue-romantique-ornament-blog-hop.html Pamela Huntington   http://pamelahuntington.typepad.com/february_2007/2013/11/handmade-holiday-blog-hop.html Susan Walls   http://www.susansartcircus.com/christmas-with-ice-and-santa/ Jen Cushman   http://wp.me/p1lhEq-Gb Sunday, Nov. 10 Lesley Venable http://flatwoodsfolkart.typepad.com/lesley_venable/2013/11/a-very-rue-romantique-christmas.html.html Sandy Martin  http://sweetpeajewelry1.blogspot.com/2013/11/rue-romantique-christmas-blog-hop.html Susan Weckesser  http://mysweetearth.blogspot.com/2013/11/rue-romantique-bloghop.html